In the latest installment of its "iEconomy" series of articles,
The New York Times
takes a look at Apple's retail stores, examining the compensation offered to its employees responsible for fueling booming sales in the division. The article features quotes from a number of former Apple retail store employees, including
MacRumors
' own Jordan Golson.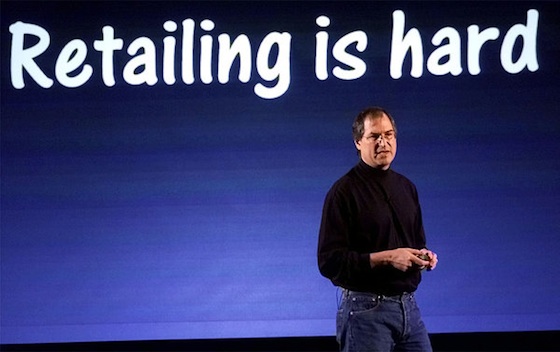 The new report takes the stance that Apple is not paying its retail staff enough given the success of the stores, instead relying on its employees' devotion to the company and a strong fan base providing a massive pool of job applicants to keep its retail stores staffed.
Within this world, the Apple Store is the undisputed king, a retail phenomenon renowned for impeccable design, deft service and spectacular revenues. Last year, the company's 327 global stores took in more money per square foot than any other United States retailer — wireless or otherwise — and almost double that of Tiffany, which was No. 2 on the list, according to the research firm RetailSails.
Worldwide, its stores sold $16 billion in merchandise.
But most of Apple's employees enjoyed little of that wealth. While consumers tend to think of Apple's headquarters in Cupertino, Calif., as the company's heart and soul, a majority of its workers in the United States are not engineers or executives with hefty salaries and bonuses but rather hourly wage earners selling iPhones and MacBooks.
The report notes that roughly 70% of Apple's 43,000 U.S. workers are retail store employees, with many of them earning in the neighborhood of $25,000 per year. Apple's pay rates are above average for the retail sector, but the Times argues that with each retail store employee bringing in an average of $500,000 in sales per year Apple is not a typical retailer.
The latest iEconomy report comes just days after Apple began offering raises of up to 25% to many of its retail store employees, with speculation suggesting that the move was made to address the criticism set to appear in the report. Apple last week also launched new employee hardware discounts of $500 off of a Mac or $250 off of an iPad, on top of existing 25% employee discounts.
(Photo by Win McNamee/Reuters)
Retailing IS hard. I had a brief spell at it after my wife died and I just wanted a job, Any job to take my mind off things. I worked for Tiny Computers (Now long defunct) first part time, and then as a manager in the Cardiff store.
The hours were long, the pressure to sell extended warranties intense, and I left because I believed that the ethos was immoral…I was however very well paid. I hired all female staff based on the theory that they sell better…They did, and my store was consistently top of the sales tables.
I left to start my own business, taking with me many of the staff I had hired!
Any retail environment is tough, and I don't begrudge Apple staff the pay rise one bit. They have to deal with awkward customers on a daily basis.
The amount of social Darwinism being espoused in this thread is sadly predicable. Some clearly need to acquaint themselves with the redistribution of the wages curve over the last 35 years. It is kind of depressing to hear so many people who are not only unaware of what has occurred over this period of time, but who apparantly accept and even celebrate the new order. All hail downward mobility.
If the Apple Store don't like their salaries, they are more than welcome to go work somewhere else.
Capitalism wins here.
The company also offers very good benefits for a retailer, including health care, 401(k) contributions and the chance to buy company stock, as well as Apple products, at a discount.
401(k) contributions and, more so, health care are worth their weight in gold. Ask anybody that has had to go without them.
I don't understand why people are so upset about higher wages. Yeah it is retail, but these people do more than just ringing up high ticket items. Often they are providing solutions to you and your idiotic family members that cannot figure anything out or refuse to use google. These people are the reason customers go to apple stores and not walmart, target or best buy. I don't see anything wrong with looking for ways to retain or attract good employees.
I remember working retail – I got crap for compensation besides the ability to work extra shifts every so often. I would regularly ring up transactions for hundreds of dollars. We never sold computers, but I sold the most expensive stuff in the store. I bet if I sold computers only, I would be treated the same way that Apple employees do. And they make more money than I did.
Retail employees almost never make a lot of money – even if the company they work for makes millions of money. That's just a fact of the retail versus corporate side of business. If you want to make money working retail is not the route to take.
If the Apple Store don't like their salaries, they are more than welcome to go work somewhere else.
Capitalism wins here.
Yep – screwing the lowest guy on the totem pole just like it is designed to do.
It's ironic that they are the ones that tend to defend it.
This is pretty ridiculous, since when do companies "share" their wealth with employees based on dollars earned per square foot? They aren't owners, they're employees. As long as their compensation is comparable to other retail jobs, where's the problem? No one gets rich working retail, that sucks but that's just the way it is. You want to get rich then write some software after leaving the Apple Store.
What you say is true, as far as it goes. But the big picture is one of stagnant wages and downward mobility for a very large part of the U.S. workforce. This has been going on for 35 years or more, as the economy shifts from a manufacturing to a service basis. Most of these jobs pay less than a living wage and provide little or no opportunity for advancement. So while Apple is no worse than most and perhaps better than many in the industry, the problem of such a large part of our workforce being stuck in poorly paying, deadend jobs is very real. The only problem with the Times article is that it picks on Apple instead of a company (say, Wal-Mart) that treats their employees even worse, and fails to go after the larger issue.
———-
We recently put a job opening up on Craigslist for a small retail store in NY for pretty much a stock boy / delivery boy position at 8 bucks an hour with no health benefits. We got over 200 applicants in 7 days.
Making 12 bucks an hour, plus full medical and 401K in a mall selling computers that essentially sell themselves is pretty sweet in my opinion.
I think you are drawing entirely the wrong lesson from your example.
They are selling electronics. They are selling electronics. They are selling electronics.
In case you missed it they are selling electronics. It's not strenuous physical labor. They are not 1000′s of feet above or below ground. They are not working in hazardous conditions, with heavy machinery or around any number of things that could kill or injure them. They are not even doing skilled delicate tedious work that requires years of training. They are selling electronics.
I think these journalists need to realize that working in retail and working for a company whos products you love and appreciate are two different things.
This entry passed through the Full-Text RSS service — if this is your content and you're reading it on someone else's site, please read the FAQ at fivefilters.org/content-only/faq.php#publishers. Five Filters recommends: Donate to Wikileaks.